Dental in Dana Point, CA. We offer dental implants procedures in our Dana Point, CA office.
IMPLANT DENTISTRY IS A STATE-OF-THE-ART TOOTH RESTORATION OPTION THAT IS ATTRACTIVE, COMFORTABLE AND PERMANENT. DENTAL IMPLANTS CAN RESTORE FULL ORAL FUNCTIONING AND AESTHETICS FOLLOWING TOOTH LOSS DUE TO DECAY, INJURY, EXTRACTION, PERIODONTAL DISEASE OR OTHER CONDITIONS. MISSING TEETH NOT ONLY DIMINISH THE ATTRACTIVENESS OF A SMILE, BUT CAN CAUSE DIFFICULTIES WITH SPEAKING AND EATING, AND CAN LEAD TO MOVEMENT OF REMAINING TEETH.

3D Dental Imaging
CORRECTCHOICE™ ADVANCED DENTISTRY & DENTAL IMPLANT CENTERS IS IDEALLY SUITED FOR PATIENTS THAT DEMAND THE HIGHEST LEVELS OF CUSTOMER SERVICE, CUTTING-EDGE DENTISTRY, AND THE FINEST MATERIALS AVAILABLE.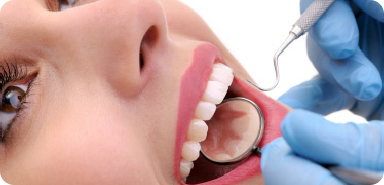 Dental implants provide long-term or permanent anchoring of crowns, dental bridges or dentures while offering the added benefit of helping to halt bone loss in the jaw. They are as comfortable as real teeth and look completely natural. We offer the convenience of one-stop dental implant procedures in Dana Point, CA.
Dr. James Lajevic and his staff, where they offer a wide range of services ranging from preventive care to general dentistry, cosmetic procedures, full mouth rehabilitation, fixed bridges and removable dentures, implant dentistry, treatment of TMJ dysfunction, and treatment of defects in the mouth, teeth and jaws. Dr. James Lajevic and the Staff at Correct Choice are committed to helping their clients receive the highest quality of dental care and treatment options, utilizing the most innovative and up to date technologies in dentistry.
Dr. JAMES LAJEVIC brings his expertise in esthetics, implant dentistry, removable dentures and full mouth make-over.
Dr. James Lajevic and his team at Reconstructive Dentistry offer the most advanced cosmetic and functional restorations, which include, but are not limited to, crowns, bridges, partial dentures, complete dentures, implant surgery and restoration, cosmetic dentistry, treatment of TMJ dysfunction and alternative treatment for many conditions such as snoring, sleep apnea, migraine headaches, stabilization of bite, aid to weight control, and cosmetic evaluation. Dr. James Lajevic has always believed that, "an educated dental patient is the best patient to treat". He offers these services utilizing the most advanced technologies in a friendly and comfortable environment.
James La Jevic Dentist D.M.D Pennsylvania & California Active Dental Lic. Good Standing.
WERB BOARD Certified Dentist / NERB BOARD Certified Dentist Code Of Ethics.
American Dental Association ADA Member / PAST Full-Time Prosthetic Faculty Member University of Pittsburgh. School of Dental Medicine Crown & Bridge / Dental Implants.
BIOMARK Dental Implants LLC Founder / 1St Dental Implant Facility Exclusively Designed For Patients Needing Dental Implant Related Procedures.
Private Practice in Pennsylvania USA 1974 – 1999.
Chef Clinical Director of United Dental 2000 – 2005 Las Vegas, NV USA .
Chef Clinical Director of Technodent Dental Las Vegas, NV USA 2005 – 2007.
Administrative Dentist for North American Dental Implants USA 2008 – 2013.